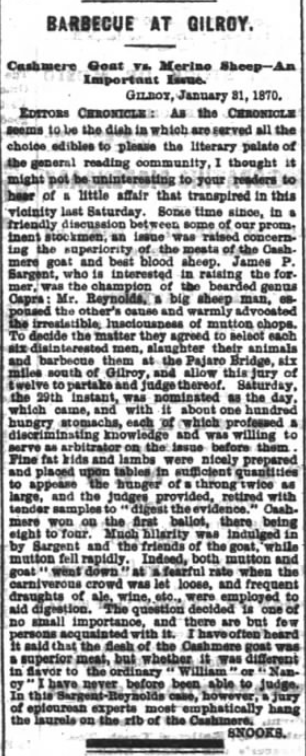 Gilroy Barbecue
In the process of poking around the internet for information about goat and lamb for my latest barbecue column, I came across a reference to a very early barbecue cook-off. The 3 Feb 1870 edition of the San Francisco Chronicle features a blurb by "Snooks" who recounts a competition featuring a cook-off between promoters (stockmen) of sheep and lamb in the central California town of Gilroy. One Mr. Sargent represented the "Cashmere goat" camp (yes, same cashmere as your sweater), and Mr. Reynolds the "Merino sheep" team (arguably makes an even better sweater). Each team picked six "disinterested" judges, then commenced to slaughter, barbecue and present the meats for judging.
By a vote of 8-4, the goat came out on top. Another hundred or so guests descended on the remaining meat for what was surely quite a feast at that time. No word if there was a comparison of sweaters.
Technically, this was more of a "throwdown" between the fanciers of goat and lamb, but I've yet to find a reference to any earlier event so closely related to a barbecue cook-off.