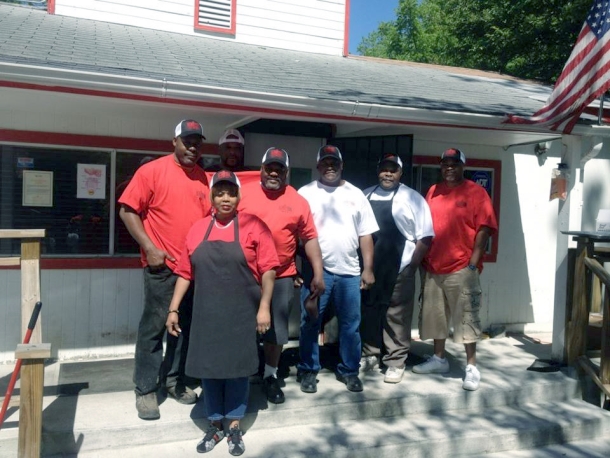 Left to right: Steve Burns, Sharon Burns, Tommy Burns, Gary Burns, Ricky Burns, Roy Burns Jr. and Andre Burns. Photo courtesy Burns Original BBQ/Facebook
Houston pitmaster Gary Burns has closed his BBQ joint on Antoine and rejoined the family business at the original Burns location on DePriest St. The DePriest location was where Burns' father Roy Burns gained notoriety for his classic style of East Texas 'Q. After the elder Burns died a few years ago, the original location closed. Gary's brother Steve re-opened it a year ago as "Burns Original BBQ." Gary rejoined the family business this past May. He attributed the closure of the Antoine location to a dispute with his business partner there.
Considering how labor intensive the barbecue business is, it makes perfect sense for Gary to return to the family fold. There's a big staff at Burns Original BBQ and Gary has a lot of support there. Great to see the Burns family coming together again. Of course Roy Burns' daughters Kathy Braden and Lisa Jordan still have their Burns BBQ location on Shepherd that is still going strong.
That said, there's a turnkey BBQ facility on Antoine if anyone is interested. One of the best steel, all-wood-burning smokers I've seen in Houston.